Real Diapers, Real Simple! - Waste Reduction, Environmental Benefits, Elimination Communication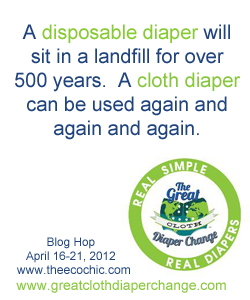 I wanted to "potty train" early. When the Little Bug was about 4 months old, my thoughts were on 2 major focal points in our daily routine: elimination communication and baby signing. Since this is "Real Diaper Week," we'll only be talking about our Elimination communication journey.
I first polled my 'Moms' group for their thoughts on early potty-training. I once lived in a smallish very green town, and usually those types of towns are where great green advice comes from. I love those towns. So all of the mama's agreed on a few things: 1) girls are usually easier to get trained earlier 2) cloth diapering helps speed it up 3) read "Diaper-Free Baby" the book. So I did.
I skimmed it. It was a lot of propaganda and about a million pictures of the BabyBjorn potty. And a lot of the same people talking about their testimonials. But, I figured if I could glean anything out of it, I'd be that much further in my journey. And, I knew that developing nations potty train by about 2 years old at the latest, consistently with either gender. What does that mean for me here in the USA? That it IS possible! (Even though my mom and MANY others scoff at the idea of trying to start potty training a child under 2 years old.)
So we started potty shopping. I decided on a Fisher-Price Duck potty. Little Bug loves it. He has been peeing on the potty since he was 5 months old. Maybe younger? At least that young. I took the 'psssst' tip from the book. He associates that sound with peeing and goes. Now at 13 months, he is aware of the action of peeing. He doesn't automatically pee when his diaper is off and you are changing it. I'd say we're on our way. It's not overnight success and we've never caught a poop. He has pooped on the floor twice. He has peed on the floor countless times. I plan on renting a carpet cleaner as soon as he is 100% trained. To me, it's no different than puppy training really! Repetition. Encouragement. Consistency.
We are still working on this. Some other things have taken precedence--signing, vocabulary... But, we still try to put him on his potty at least 2 times a day. If he doesn't want to be on it, we don't force the issue. If he pees, we cheer! Daddy shows him where 'daddy's pee' on the big potty. The potty folds into a step stool. We haven't used that feature to wash hands, because we have a small bathroom, but he does use it at the window to look out. It also sings, and we haven't used that feature either--when we really hit the potty learning hard, we'll probably turn it to the sound option. (The duck sings when it's sensor has 'wetness' on it.) I'm not sure if it will frighten or delight him. B
It takes dedication. Some days I feel really guilty that it seems like too much 'work' to walk him to the potty or place him on the potty instead of just putting on a new diaper. I try to remind myself that once we are successful it will be a lot LESS work to not change any diapers at all! It's teamwork, for mom and baby. I recommend reading about it--not just one book or method, but several. And, the rule that has become our 'go to' for all things parenting:
DO WHAT WORKS FOR YOU AND YOUR BABY! To hell with societal norms, what your in-laws thing, what your friends say, or even what your own mom or doctor think! You have a 'mommy instinct' and if you listen to it and pay attention to the cues your child gives, you'll find what works.