Canada

Day

Extravaganza

Blogger

Sign

-Up's
Sign ups END 6/10/12!!
Event runs June 17th-July 1st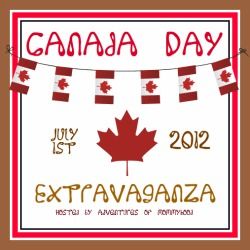 BLOGGERS Can help to be a part of the giveaway
Family-friendly Blogs ONLY please!
Canadian SPONSORS Can donate items for the giveaway, or if you are a US sponsor and want to donate a CANADIAN-made item, that's great too!
If you are interested in sponsoring a giveaway prize, please contact adventureofmommyhood@gmail.com
The

Proudly Canadian

Fabulous Sponsors are:
Northern Mom
Monkey Doodlez
Buncha Farmers
The Laundry Tarts
Hippeez
Nellie's All Natural
Woolies
oWOOLy Love
Druide
EcoParent Magazine
Kiss Naturals
Rearz
GlowBug Diapers
Lunapads
Raffi
Applecheeks
(expecting more...they are pending!)
Here's How To Participate!!!
**This is the hardest part of the whole event. You do not have to seek any sponsors, I've already done that! You just have to complete 4 steps, wait 'til the event begins, and then spread the word like wildfire!**
Are you interested in increasing the Canadian readership of your blog? Are you really appreciative of all the awesome stuff Canada has come up with and made available to us all? Are you a Canadian blogger and just want to be part of a cool event for one of your very own country's summer holidays? STELLAR!! Keep reading...
Facebook ($2)

Twitter

($2)

Other - provide me with your email/newsletter sign-up, Pinterest, Linky Follower, GFC or other social media outlet info

($2)
The event will start June 17-July 1, which is Canada Day! So, winners will be drawn on the 1st. This is a giveaway with ONE Rafflecopter form. No need to find sponsors! Just post on your blog, Facebook, and twitter about the event!
Easy sign-up. Here's how ...
Join the Canada Day Extravaganza Group

for the latest updates. This is also where you will post your link to the blog post about the event, Facebook link/share to the event, and any tweets.

Grab the

Canada Day Extravaganza

button (HTML above) and place it in a prominent place on your blog's sidebar to help spread the word.

Send your payment via Paypal to

adventureofmommyhood@gmail.com as a

personal gift

. **I have a few sponsors that are shipping items to me, so this fee will cover shipping for the winners to get their spoils!**
Fill out the Google document

below

with all of your information.
**This giveaway is open to participating bloggers.**


Here is the link to the google doc for

OFFICIAL signup

. You will need to complete 1-3 to fill out the form, so it's easiest if you do it in order. :)

This is my first time using a Google doc solo, haha, so be patient and let me know via email (specified in #3 above) with any questions or broken links [if any], etc. Thanks everyone! Lets have fun and spread the word! This isn't even the tip of the iceberg of all the coolly Canadian goods!
**Also, don't be alarmed, but my blog may be down for a few hours at some point as I make some fun changes!**