Welcome!! It is finally here!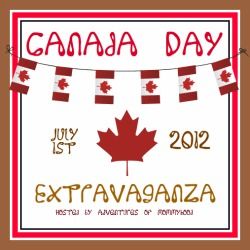 The
Canada
Day
Extravaganza
!
Okay, let me just admit, right up front, I'm a US blogger. However, I have ALWAYS loved Canada too! I grew up in a border city, so Canada has always been near and dear to me! After becoming a mom, I've paid a LOT more attention to where things are made, what ingredients they have, and basically any other detail I could scrutinize, before letting it near my kiddo.
What did I find out???
CANADA is the maker of many MANY many of the things that I LOVE!
From cloth diapers to amazing natural products, Canada ROCKS for giving the world some really stellar stuff! So, I decided this summer, I will be highlighting a few companies that are really pretty sweet! I've only had positive interactions with Canadian stores, WAHMs, and retailers--everyone has been so laid-back and friendly!
So, without much further ado, lets get this extravaganza started!!
This giveaway is a little different--there will be surprise entries that pop up between now and July 1st. So, keep checking back--make sure you claim ALL of your entries! The giveaway is open to the US/CAN and you can enter at several different blogs! As an added bonus, you can enter my friend Celeste's Canada Day giveaway as well! Make sure to read the details after the fabulous sponsor highlights on this post!
You can enter here or you can hop around to any and all of the blogs participating!
And of course, we need to send out another BIG thank you to all of the fabulous proudly Canadian sponsors that made this giant giveaway possible!!
Buncha Farmers
started in the summer of 2006 as a group of farmers and local artisans from the Greater Toronto Region, Durham Region and Region of York in Central Ontario. Buncha Farmers is "committed to the highest standards of quality,satisfaction and fair pricing." I am really loving the stain remover and soap that they sent me to try--and a few readers will too!!!
Raffi
is a super awesome children's singing sensation! He does a lot of work in support of 'child honoring' and has great messages within his catchy tunes! Our personal favorite in this household is "Baby Beluga!" 2 Winners will receive copies of some great Raffi CD's to dance with their kiddos at home!
Druide
: THE LARGEST RANGE OF CERTIFIED ORGANIC BODY PRODUCTS IN CANADA.
Since 1979, DRUIDE has followed a charter built on ecological values such as respect for the individual and the environment, with the ultimate goal of improving the quality of life on earth. We love companies that love the earth! Druide has provided a Citronella kit to help keep biting insects from bugging you this summer and a full-size tube of Goat's Milk Lotion for a reader to win!! This stuff is wonderful smelling and feeling!
NorthernMom
Diapers and Gifts is owned and operated by Samantha, a talented and friendly WAHM that lives in Saskatoon, SK! She made a beautiful elephant pocket diaper for my son -- look for the review and a chance for one reader to win a pocket from Samantha of their own!
Nellie's All Natural
is a line of products that are really awesome in a super simple way! The products are hypo-allergenic, non-toxic, and environmentally friendly, specializing in kitchen and laundry cleaning products. One winner will get a bag of wash to try! I'm loving mine. It is unscented and does not bubble since it is all-natural, but leave laundry clean without overbearing perfumes.
EcoParent Magazine
is a Canadian-based, family-owned magazine that is going to be wildly popular in the coming months, I can just feel it! It is a relatively new publication and I had the distinct pleasure of getting a subscription to peruse and enjoy--again, LOVING IT! Who doesn't love a magazine that talks about cloth diapering!? Sam at EcoParent has kindly offered a subscription for one-year to a lucky winner!
Lunapads
are a pretty way to pad your period! They are WAY more healthy for a woman to use than bleached, chemical-ridden traditional disposable pads and tampons and they are more environmentally and economically efficient as well! Oh, and did I mention they are a proudly Canadian company? Lunapads has great customer service and a HUGE selection! One winner will get to try them!
OwOOly Love
is run by a super sweet WAHM named Amy. She is really good with wool creations and she pretty much rocks! We have a pair of longies that were upcycled from a wool sweater and they are amazing! Amy has generously obliged to sponsor something woolly and lovely for one winner!
The Laundry Tarts
is a super cool Canadian business that offers decadent smelling laundry detergent and stripping agents! A little Key Lime Pie to perk up diaper duty today? Yes, please! Fun, fresh, and fabulous, the Laundry Tarts are dedicated to environmental awareness too! One winner will win a yummy smellin' bag of detergent from these great gals!
Heather at
Hippeez Cloth Diapers
is the WAHM behind the label and is another super talented Canadian shopowner participating in the Canada Day Extravaganza! Heather is the maker of super easy-to-put-on flannel fitted cloth diapers and fleece covers. She is really personable and has such an expansive variety of prints!! One lucky winner will something fluffy from Hippeez!
Monkey Doodlez®
is a proudly Canadian manufacturer that is near and dear to me, as I've become closer to them as a blogger and have gotten to know Kelly and Cheryl--the women behind the name! Monkey Doodlez® offers a wide range of diapering goodies not to mention fun contests on their blog and fan appreciation prizes on Facebook! The customer service and feedback with this company is amazing and the products are high-quality at an affordable price! One winner will be receiving some love from Monkey Doodlez®!
Woolies Dryer Balls
= Lifesavers in the laundry room. I have 4 of these and they are my FAVORITE! I've tried other felted balls and they have left me picking fibers off of my clean diaper inserts and other laundry for weeks now--unraveling and making me angry! Woolies are felted at least 4 times and are giant! They are just amazing. Shauntha is super friendly to work with, she's the Canadian shopowner behind these fantastic dryer balls! One reader will win a set of 4 dryer balls to become smitten with!
The Green Bumkin
is a WAHM-owned and made shop featuring cloth diaper, mama and family cloth, toy straps, wet bags and more!! Another wonderful, Canadian business, The Green Bumkin is based in Ottawa. One reader will be getting something that rocks from The Green Bumkin!
Applecheeks has a sweet motto--which says, "We didn't invent cloth diapers, we just perfected them." This is a bold statement but this great Canadian company has pretty amazing diapers.
are yet another fabulous sponsor of the Canada Day Extravaganza!
So, thank you Applecheeks! There will be a sweetly swaddled
bum our there, for one reader, thanks to the ladies there!
Rearz
is a Canadian company that is well-loved among cloth diapering mamas, but they also have family and adult cloth options! Not to mention, there are so many different products for kiddo cloth diapering--"disposables" that are really AIO side-snappers and are fully cloth, fitteds, cloth wipes and more!! One lucky winner will get some Rearz fluff!
Glow Bug Cloth Diapers are affordable and cute! Two mamas are behind this great fluff company and the customer service couldn't be better if there were 200 mommies working there! They are great to deal with and the shipping is super fast! This company has US and Canada branches, as with many of the sponsors listed, but originated and is still headquartered in Canada! One reader will win a Glow Bug diaper of their very own!
So, as you can see...there is a LOT of great Canadian loot to win! There will be several winners, and TONS of chances to win with entries popping up here and there in the next few weeks! I hope you love these companies as much as I do! I really have tried all of the companies' that are part of this event and believe they are super-fantastic! Now, go WIN!
Enter on the Rafflecopter form below, or at any of the participating blogs!! As for the 2nd giveaway opp---go enter my blogger friend
Celeste's Canada Day giveaway
---and you know what? SHE'S proudly Canadian and very cool too!!
THIS GIVEAWAY HAS ENDED.