Alright, this featured sponsor company has a special spot in my blogger heart. As a proudly Canadian manufacturer of cloth diapers,
Monkey Doodlez
®leads the way in cloth diapering goodness, specializing in
dad-friendly systems
and
swim diapers
! They were even in the running for a Cribsie Award this year for the ultra cute swim diapers they make! Rock on
Monkey Doodlez
®!
Monkey Doodlez
® was started by Cheryl, on her dining room table in an effort to provide a quality comfort to her kiddo for her diapering needs. Today,
Monkey Doodlez
® is sold by hundreds of retailers in many countries!
I have been working with the Monkey Doodlez® team as a guest blogger for a little over a month now. Cheryl and her team has shown me great kindness, generosity, willingness to help, and awesome customer service even
before
I became part of the team! I first fell in love with Monkey Doodlez® through Lori at
The Gnome's Mom
and her 30 days of dipes event last year.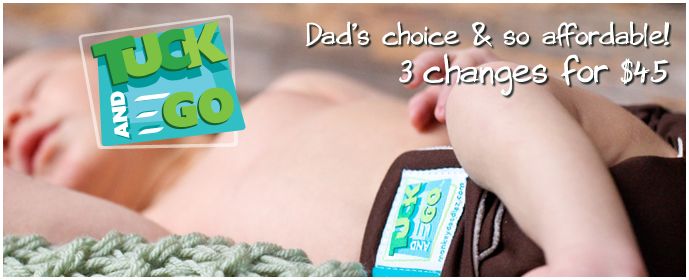 So, I decided to try out some Monkey Doodlez® gear. I purchased 2 pull-up style swim diapers and a pocket diaper. Then I did a review of some
wipe cubes
--the first wipe cubes I had tried, on my mission to
convert to cloth wipes
. I still use those wipe cubes today! They are great! I've since broadened my love of the Monkey Doodlez® product line to include the TAG (Tuck and Go®) system, Pail Pals, another swim diaper (one with snaps) in a larger size for my growing boy, and a wetbag.
Here is my Monkey Doodlez® stash. I plan on growing it more and more until we don't need to worry about diapers anymore (for this baby anyway!!) I've really loved all of my Monkey Doodlez® gear and have had the
best
luck with all of the products I've tried.
Just a quick description--the orange diaper is our well-loved Ollie Octopus pull-up swim diaper (Large); below it is the Blowfish in blue, also a pull up swim diaper, but X-Large; underneath both is my navy blue Monkey Doodlez® wetbag; the white diaper-like thing in the front is an insert pad for the Tuck and Go® and it is the luxurious goodness I was talking about when I described the Tuck and Go® system; above that is the yellow Tuck and Go® cover; a discontinued "Big Cat" print pocket is at the top; on the very right is my new X-Large snapping swim diaper and a jar of Pail Pals.
The
swim diapers
are my go-to diaper for the pool or the lake. We've used Monkey Doodlez® diapers since my boy was about 6 months old and he finally poo-ed in one last week. The pull-up diaper did just as it should. It kept the solids in, I changed him into another swim diaper, and off we went. The pull up swim diaper sprayed out just as easily as a regular cloth diaper and I hung it in the sun after wash to get rid of any stains. Good as new. Now, we have the versatility of having added a snap swim diaper to the swim stash, and I love having the option of snapping off a soiled diaper. The pull-up cloth diapers are still WAY easier than the disposable ones to pull on and off (disposables are nearly impossible to pull up when wet), but having snaps is great for energetic toddlers!
The
Tuck and Go®
is a new addition to the stash, but we're loving it so far! It's super absorbant, easy for grandparents and dads and daycares to use, and the pads are luxuriously soft! Like really soft. Something between silky and fluffy, they are devine against the skin! I can definitely feel good about putting that on my baby's bum! With this system, you get super absorbency without super bulk. All you do is tuck the corners and go--aptly named, right? Loving it.
Pail Pals
are also new to this household. We upcycled a Tidy Cats Litter Pail and put a pail liner bag into it. It works great and seals out smells when the lid is shut. It also reuses an item we already have around the house. We use a dry pail, and smells are pretty minimal, as we strip often and rinse inserts after changes, but the pail pals just add a nice aroma to help cover the ammonia fumes that occasionally sneak out of the pail! They have a light hint of vanilla, I think, and come 20 to a jar. It just helps to freshen up the room without an overpowering essential oil smell or the pee smell. These are an item I didn't know I needed until I tried them, now they're something I will keep in stock!
Wet bags
are a must. I love this particular one because it has a handy buckle, so I can take it on a bicycle ride, in the stroller, a gym locker---it fastens to handles and bars very nicely to make it accessible but not in the way. We're always at the beach and pool, so even if we're not
always
toting diapers, it's good for wet stuff too!
The Monkey Doodlez® website is a great place for resources specific the their products but also cloth diapering in general. Learn about the business, find a retailer, browse the product line, and while you're there, check out my latest
blog post
! We have been running all sorts of contests and fun fan events, including a Father's Day Photo Contest, ending June 30, 2012 at midnight CST. Get those entries in! Speaking of entries, Monkey Doodlez® is a fabulous Canadian sponsor for the Canada Day Extravaganza here at Adventures of Mommyhood, and someone out there that is very lucky will be winning some Monkey Doodlez® fluff! Make sure after you "like" them, thank them for sponsoring this great giveaway and while you're there, tell 'em Adventures of Mommyhood sent you over! Good luck!