Hi everyone!! Here we are! Another day, another super-fab proudly Canadian sponsor! Please show some love to
Woolies
! Woolies is the maker of some really REALLY great dryer balls!!! The wool is Canadian, the company is Canadian and the dryer balls are the bomb! They are on Facebook, so go ahead,
LIKE THEM
, thank them for the giveaway sponsorship, AND, let them know Adventures of Mommyhood sent you!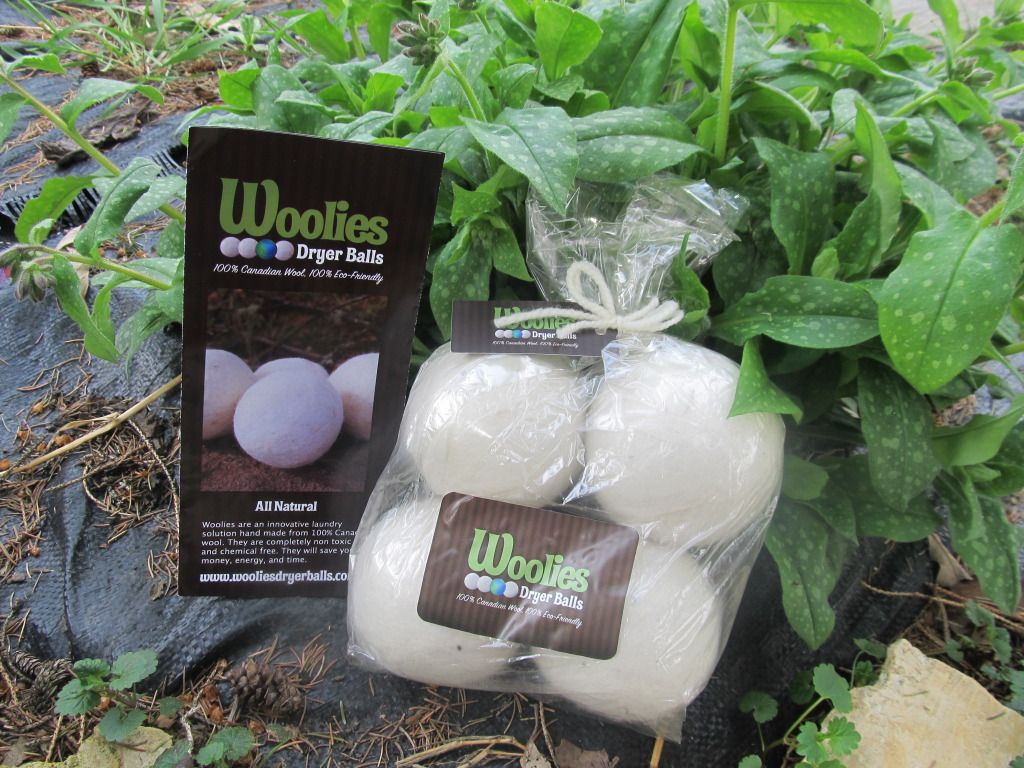 Woolies come in eco-friendly biodegradable/compostable packaging (for all of their products.)
I've tried other wool dryer balls in the past, and I thought at the time that those were amazing. Enter Woolies. These dryer balls are about 4 inches in diameter. They aren't heavy though, you can tell they are dense but they are lightweight and very smooth. I've been using these for EVERYTHING in my dryer for weeks and still, the balls are going strong. No fraying or deterioration of the wool that was felted.
I have noticed that adding dryer balls to my routine cuts my dry time out by at least 20 minutes. Did you know that if you use 8 of these dryer balls, you can almost cut your drying time IN HALF?? Now that it's summer, unless it's a really rainy week, I rarely use the dryer for diapers (if anything at all!) But, sometimes it's nice just to fluff some of the stiffness from line-drying items out with a few minutes in the dryer--the wool balls help to quickly soften them up. They are also gentle enough for bras and other delicates to be put in with them. Woolies also eliminate the need for fabric softeners--making you more green and saving more green!
The Woolies website even makes me feel eau naturale! With deep green colors and barnwood background, the company exudes the natural-vibe! And they should! Woolies are 100% natural, Canadian-made goodness! They are also non-toxic and chemical free.
Another cool fact about Woolies:
All products come with a 1 year warranty and satisfaction is guaranteed!
I had some other felted balls that seemed to be really quality balls, but they were half the size of Woolies and they came apart after about a month. It wouldn't have been a big deal if they didn't get RED WOOL FIBERS all over all of my velcro and inserts. It has taken me A LOT of time to clean out all of the fibers from my diapers. The faulty balls were also more expensive than Woolies! They didn't have a warranty either!
So, Woolies are my new favorite, or
favourite
for my Canadian friends that are reading!! Woolies are felted AT LEAST four times! They even say they will not unravel for YEARS of use! Indeed, Woolies are a worthy investment! So, why wait?
BUY some today
to reduce your footprint, be more green, save money, and dry faster!! And all of you mamas out there know that saving time is a precious thing!