Samantha is the super-mom and diaper-maker extraordinaire of
NorthernMom Diapers and Gifts
. She is proudly Canadian, part of the Etsy Cloth Diaper team, and creates cute fluff for all to enjoy! I have to say I LOVE THE ELEPHANTS!! When she said this was what she was sending over for my review, I was excited and already smitten!
Samantha has recently had a baby and was so friendly and helpful to work with! Congrats and thank you, mama! She is a WAHM that also homeschools and has 5 children! So, she is basically Supermom!! She says she originally got into cloth diapering to reduce costs, she loved creating diapers!
The quality of the this diaper is fantastic. The snaps are durable and I don't feel like if I pull a tab I will be stretching out the snap area like I do on some of my China-made cheapys -- all quality here! There is nothing cheap (except the price!) about this diaper. The snaps are in 2 rows, so you can custom fit it to your kiddo - it is considered a one-size diaper. If you have a real little tyke, there is a cross-over snap too! I think the high rise is the feature that allows this diaper to be used in many different ways (read on to realize it's full potential!)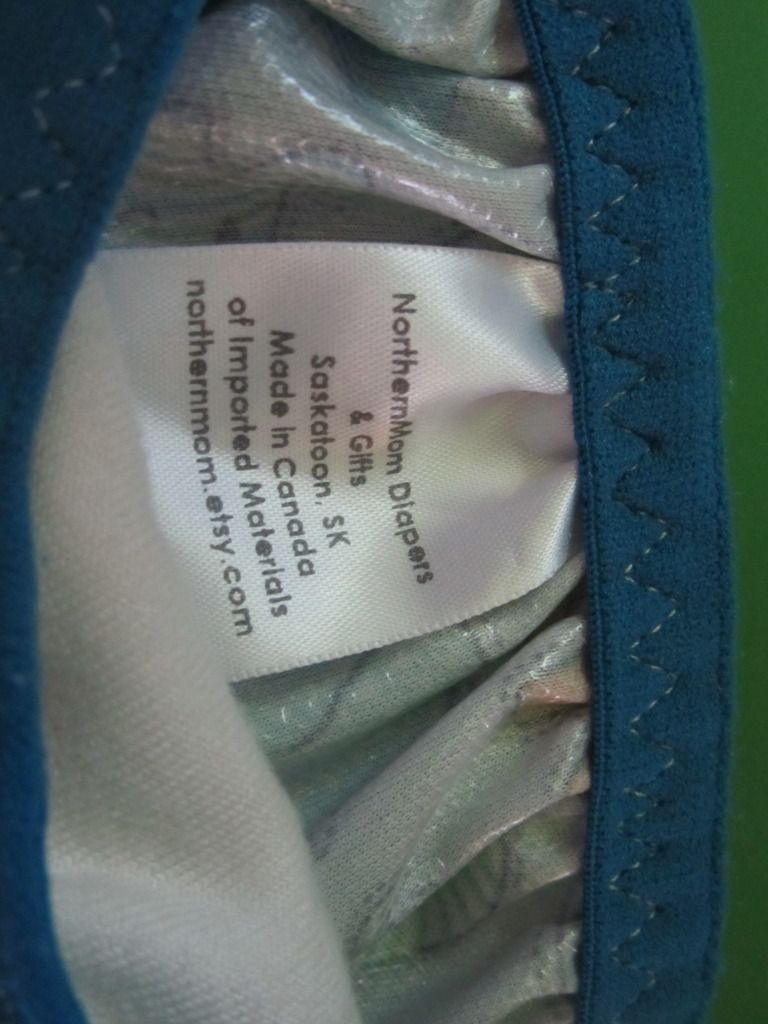 Here is a peek inside, showing the PUL and the tag!
My boy is about 32 1/2" with chubby legs and weighs about 26 lbs. This diaper is a great fit for him. The legs stay tight without leaving the angry redmarks that some diapers leave behind. The bamboo velour lining wicks away moisture, so we've had no problems with redness or irritation on the bum either. After several washes, the original integrity of the diaper is still completely the same -- perfect.
Approximate Diaper measurements:
Rise: 14-19"
Waist: 12-20"
Weight: ~10 to 30+ lbs
I definitely agree with the 30+ lbs range. Bug is a big boy and he's got lots of room to spare, with 4 more pounds until he reaches 30, I think we'll be able to take this diaper through to potty training.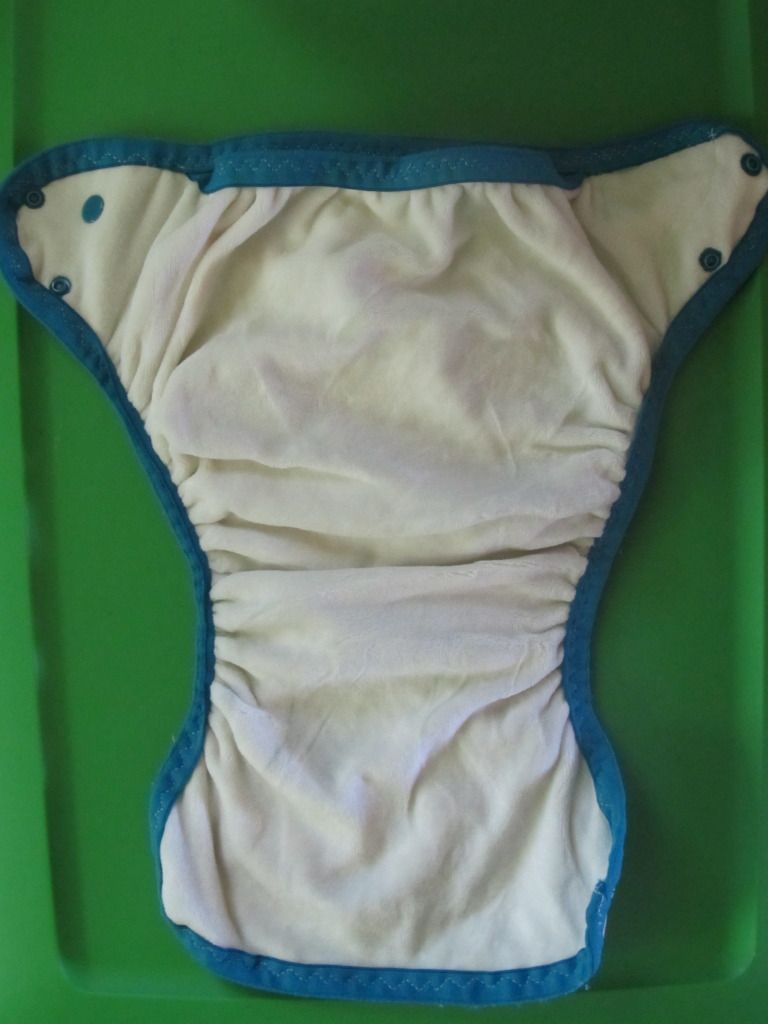 Samantha uses Bamboo as an inner liner for all of her cloth diapers. Just like how much I LOVE interlock cotton, I adore bamboo! It is soft, which is necessary for all the close-contact it has with babies' skin, it wicks away moisture and Bamboo is a renewable resource! Another cool aspect that Samantha keeps to a high standard is the quality of the bamboo--it is Oeko Tex certified, which basically means there aren't scary and disgusting chemicals or toxins in the bamboo she uses.
Somehow, this diaper is more than just a pocket--the fit of this one-size fluff is such that you can put it over a fitted diaper quite easily, you can stuff it (or double-stuff it for night-time like we did) with inserts, flats, or prefolds, or you can leave it as just a shell and go swimming! This diaper is truly versatile. I can't say the same about my one-size Fuzzibunz or similar. That feature makes this diaper a 5 (out of 5) in my book! We did have luck at night-time too, as our boy gets bigger he is less of a heavy wetter, so with 2 bamboo inserts we stayed as dry as we ever have with a PUL pocket--and just shy of the results we were getting with wool! I was a pretty stoked mama when I woke up and realized we made it through night-time without a giant leak! We have yet to soil this beautiful diaper, and I'm kind of happy about that! It's so cute it's almost too cool for poo!
Here is a shot of 2 elements that make
NorthernMom
diapers adorable: a super sweet logo (which, if you have read any past reviews, you know I am a sucker for a cute tag!) and the zigzag stitch gives these diapers an
edge
over others...pardon the intentional pun! That little bit of a decorative touch makes the diaper really special--unlike the mass-produced brand name diapers out there. Don't you agree? (I love large brands too, but WAHM-made diapers are always so unique and hold a special place in my cloth-diaper-addicted heart!)
I really highly recommend this diaper to all of you that want some OPTIONS in your diapering needs! I also like that by purchasing a WAHM-made diaper, you are supporting a family. I'm all about small businesses and keeping things within North America when possible.
So, if you aren't convinced by reading my review,
try it for yourself
!! You can purchase one of these great diapers from Samantha's
NorthernMom
Etsy shop. You can also contact her via Etsy or
Facebook
about a custom order. She has lots in-stock though too, so go ahead, get lost in fluff and stuff!
You can also
enter to win one
!! Samantha has generously agreed to giving one to
ONE LUCKY WINNER!!!
Get those entries in! The more you enter, the better your odds! Go now! And, while you're at Samantha's Facebook page,
tell her thanks and that Adventures of Mommyhood sent ya
!