I am a huge supporter of natural laundry washes. I've been on the lookout for great cloth diaper and regular laundry washes all year. I've found a few I love and a few that I do not love.
Nellie's All Natural
is one I've found that I am happy to say I DO love!! Nellie's is another
proudly Canadian
business, bringing us a line of great cleaning products for the laundry and kitchen--and you can find
Nellie's All Natural on Facebook too!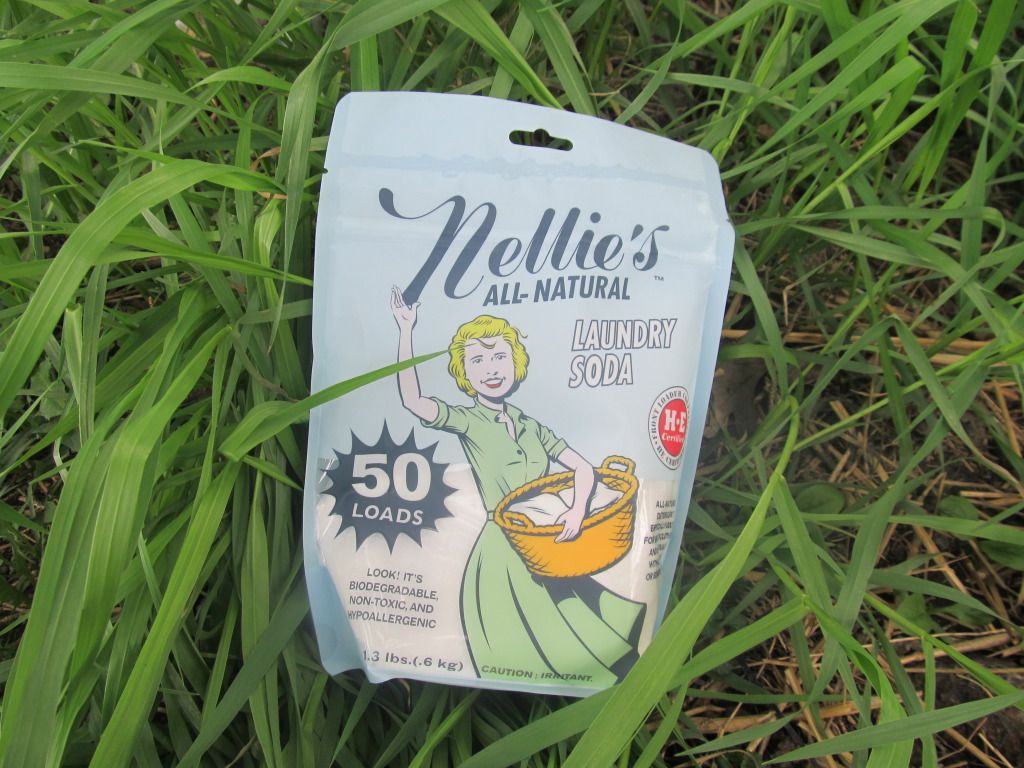 Now, many wonder about namesakes--Nellie was a real person. I don't know much about her story, or if she was indeed blond, but I do know that Nellie's products are hypo-allergenic, non-toxic and friendly to our friend, the earth. I tried this laundry wash for a few weeks now and I'm really liking it for the days when I don't want to smell anything--including dirty socks but also including smelly perfumes. Sometimes a girl just wants to rid the house of smells and
Nellie's All Natural
does just that. There is no smell left from using this wash. Some people, like my grandmother have migraines triggered by strong perfumes--so I'd recommend it to people like her for sure! (Though I'm sure grandma is unaware that there is anything but Original Tide out there!) I may have to get her a package for Chrismas!
Nellie's All Natural
isn't
just
a laundry soda company, they also carry things like dryer balls (with or without scents), frangrance sticks, laundry nuggets, oxygen brightener, automatic dish nuggets, dish towels and washcloths and even robes! I told you--they've got the laundry and kitchen cleaning covered! Now do you believe me?!
Here's what's in it:
SODA ASH
- (or Sodium Carbonate) is also known as washing soda and is used as a water softener for laundry.
SODIUM METASILICATE
- this enhances cleaning efficiency of a surfactant in soaps and detergents by combating hard water.
SODIUM CHLORIDE
- Our friend, common table salt, often used to produce soaps and detergents.
CITRIC ACID
- A weak organic acid, it is an antioxidant. Nellie's is a coconut based (LAURYL) Ethoxylated fatty alcohol. It is used by many detergent manufacturers as it is biodegradable, non-toxic and mild and efficient.
Nellie's is NOT Petroleum based.
So, I used about a tablespoon of the soda for LARGE loads and included about a 1/4 of that for cloth diapers. All of my husbands work clothes went in smelly and came out clean! My cloth diapers did the same! All of the household laundry including some gross towels from the beach that stank of well, old wet beach towel, came clean and smell free as well. Nellie's has got it goin' on!
Do you have stinky laundry? Do you want an option that does not include gross chemicals, fragrant additives, and one that is not petroleum based? Nellie's is your solution! Don't forget, for all your kitchen messes and for more products than just laundry soda, Nellie's has a
wide range of products
for you to try! Go to the site and browse around (it's really pretty darn cute, worth a look just to see something NEW and interesting from a company for a change!) and
buy some to try
!
For your chance to WIN some Nellie's All Natural Laundry Soda, make sure to grab all the entries you can between now and July 2nd at midnight, when the
Canada Day Extravaganza
will end and some lucky winners will get some sweet Proudly Canadian loot!! One Lucky Winner will get a bag of Nellie's to try for themselves! Good luck! When you stop by the
Nellie's All Natural Facebook page
, THANK THEM for being a sponsor and let them know Adventures of Mommyhood sent you!