Heather at
Hippeez
is a proudly
Canadian
, cloth-diaper makin' mama who is also a super sweet sponsor for the
Canada Day Extravaganza
!! Take it from a momma who knows--she cloth diapered her kiddo from birth! I actually won a diaper from her for a fan celebration and thought it would be really great to review a fleece cover and flannel fitted combination for this event! After all, it wouldn't be
Canada Day
without some fireworks!! (Which is what the fleece pattern cover is called!)

Here is the inside of the flannel fitted--it's super soft and I love the buttery color!!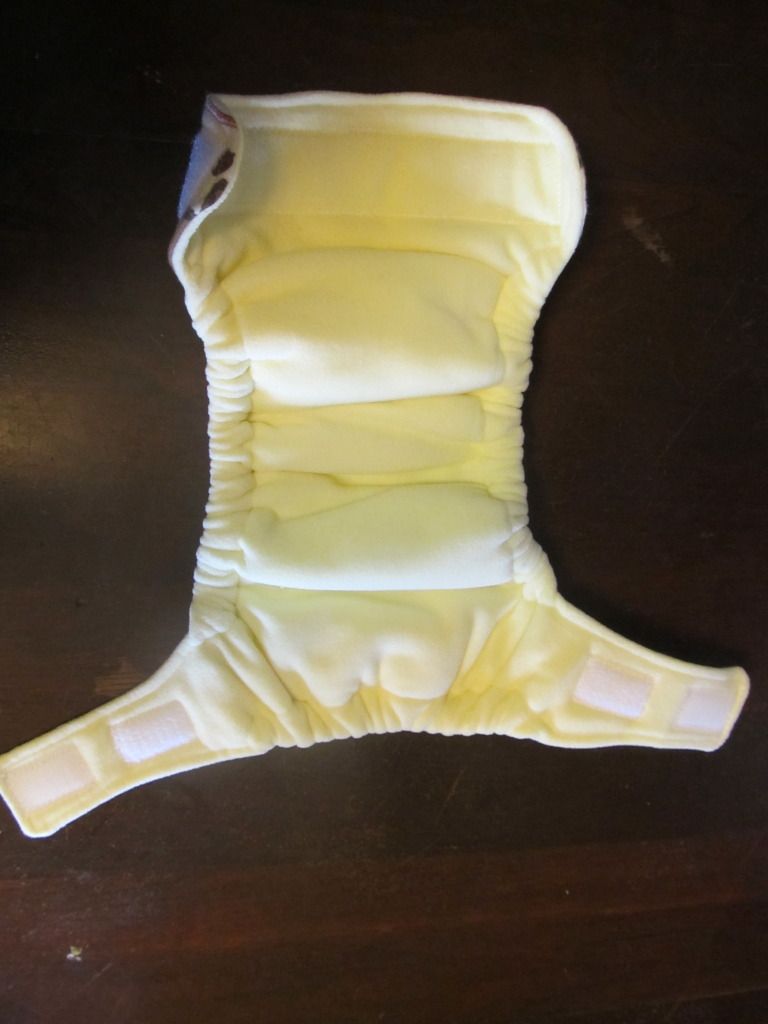 The flannel fitted diaper is SUPER cushy and absorbent! We use this fleece/flannel combo for a night diapering solution with great success! Finally! We have had success with wool and a few other diapers, but for a while, my night-time success with zilch and I was investing a lot trying to find an answer! Now, as we approach the potty training months, we have it covered! I also love that the fleece cover doesn't keep smells like other fabrics do! They feature crossover tape now and have Zorb soakers--maybe that's why they work so well! They truly are such awesome fitted diapers! Heather has announced that she will be offering more styles of diapers than just fitteds! She uses these diapers herself and stands behind the quality they offer. That's a great brand to stick with, I'd say! And, a great brand it is. I feel really good about supporting another stellar WAHM.
Here is a close-up of the "Safari" flannel fitted print and of Heather's sweet Hippeez tags! Again, I'm a sucker for cool tags!!
Craftsmanship on the diapers is wonderful. Superb. I don't think we'll be having any trouble with elastic or aplix here! The diaper is very sturdy and the cover is a high quality fleece -- not cheap and thin but really a durable kind with great thickness. In the quality department, Hippeez gets a 5 out of 5 from us! And, for night-time, another 5!

Here is the front of the fitted, showing the awesome "Safari" print and the aplix closure.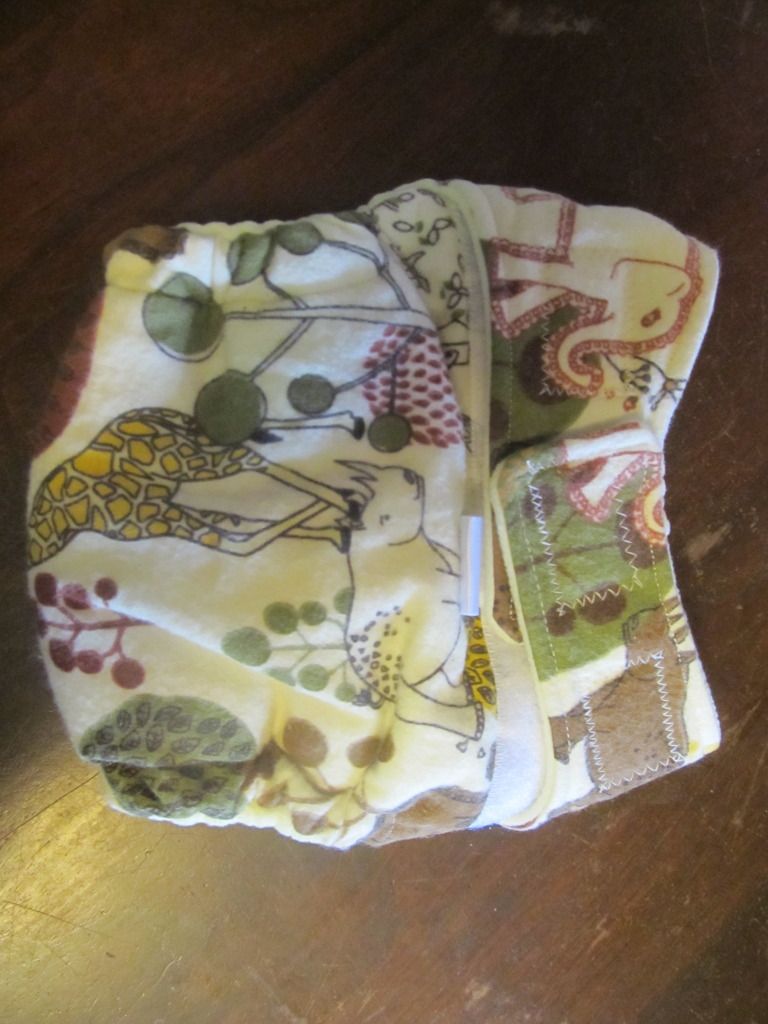 Now I realize I didn't pick a matching cover/diaper pair, but both designs were just so fabulous in their own ways that I had to have them both. So, we have a "Safari" scene underneath a sky full of "Fireworks" -- at least, that's how I'd imagine it! Fireworks on the African plains! There is an insane variety of patterns and colors to choose from! You could have a beautiful stash with nothing but
Hippeez
! Chooses are good! Heather is great in the customer service realm too--5 stars there, no problem. She was wonderful to work with.
Here is the inside of the fleece cover!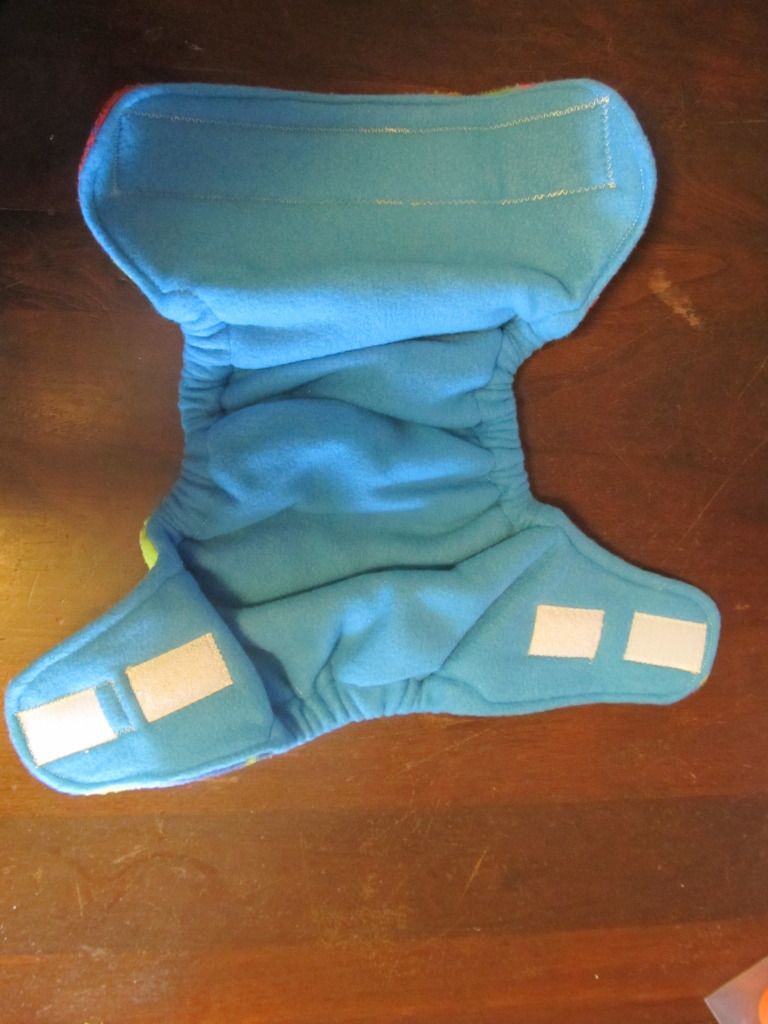 And now, wait for it... FIREWORKS!!!
HAPPY CANADA DAY
!!!
Isn't it beautiful?!? I loved it! I'm STILL loving it!

These are great diapers at a really great price! They are trim for a fitted diaper and the covers are beautiful and also very affordable. You can choose your inner lining on the fitted diapers--cotton flannel, cotton Sherpa, or fleece. They come in EIGHT DIFFERENT SIZES!! They can truly fit from preemie to toddler, no problem. I have a big boy and he fits into these fitteds with great ease and comfort, with room to spare!
Hippeez Cloth Diapers also carries a wide array of other products, including CJ's BUTTer, inserts, doublers, wetbags, gift certificates, bundles, cloth wipes, wool covers and more!
Go on over to Hippeez Cloth Diapers and check out the wide variety of patterns and prints (over 35!!)that you could buy! If you want to you can buy your own! You can shop online or select the Where To Buy tab and find a retailer near you! Or, visit the
Hippeez Etsy shop
! Tell Heather hello and let her know you're comin' from Adventures of Mommyhood! If you are willing to take a chance for your fluff fix, then enter by
clicking here
to get to the Rafflecopter form and Good Luck!!