Recently, I participated in the Dirty Diaper Laundry Flats Challenge. I used all sorts of flats! And, I can easily say, the Gerber flats that I dyed with Tulip kits were my
least
favorite! They were small. About 1/3 the size of other flats I used and I needed at least 2 of them to make it worth putting a diaper on at all! They WERE fun to dye, but next year, I'll be stocking up on more quality flats.
I had a handful of great ones, made/dyed by a few different talented ladies, and, naturally, since they are awesome, I wanted to share them with you!!
Sweetwater Cloth
First, I tried some flats from Sweetwater Cloth. This gal, MJ is pretty inspirational. She runs a
blog
by the same name, seriously cool to read. She actually participates in this cool challenge called "Made by Me" -- I checked out May, and was really impressed by all her cool, wearable creations!
What I used from MJ were 3 birdseye cotton flat diapers. They were Little Lions Flats, dyed with iDye plus Fixative for color-fastness and no carrier chemicals. MJ told me about iDye--pretty neat and now I feel just a little smarter! It is a Fiber Reactive Dye which means it actually forms a covalent bond with the cellulose or protein molecule in the cotton. Once the bond is formed, you get one molecule, as the dye molecule has become an actual part of the cellulose fiber molecule.
All the scientific jargon basically means the flat can then safely withstand frequent washing and high temperatures! And for me, it means it is more durable for my camp-style washer!
So, here is a fold that many have not seen. At least not unless you attempt using flats on a toddler with no practice at all in folding. This is the Amanda fold. It's like flat shorties!! :)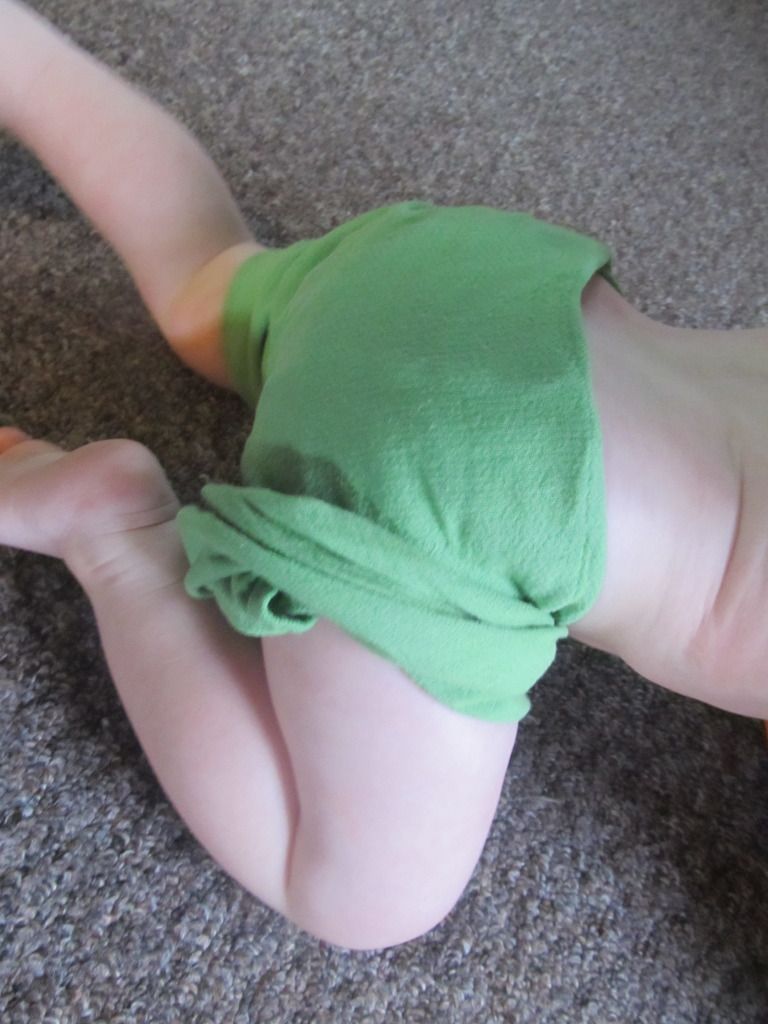 MJ also recommended another wash or two before use, even though she does a wash to get rid of excess dye. This is where I may have gone wrong--I had a little bleeding even after an extra wash (but it was only on the gerber flats.) It wasn't a big deal, but I think I could have done another wash/dry combo! The size of these flats were awesome. I always used them as the "main" flat and then stuck some gerbers in the front for extra absorption. They worked well with a Snappi and diaper pins, and were easy to use for various folds. (Though I didn't really find a fold I was particularly good at!) These flats were rockin' and MJ really does a great dye job with UNIQUE colors--they are still bright and vibrant, MANY washes later! Thanks MJ! MJ has been kind enough to sponsor a giveaway item for a reader!! You could win either one flat or one reusable bag of any size--complete with sweet dye job!
You can see the Sweetwater Cloth flats (olive green and blue just behind it) and a cream colored Brown Cow Cotton flat in the middle with a Gerber flat on the end.
And for ALL OF YOU GUYS, MJ is offering a 15% off code: ADVOFMH15 good for 14 days from now (from 6/29 on)!!
Brown Cow Cotton

This is the adorable logo that shows you that you have a quality Brown Cow Cotton, USA-made item! See above photo for a "spread" shot of the flat for size comparison to Gerber, pictured next to it.
Elissa, the Montana Mama of
Brown Cow Cotton
has an Etsy shop and website that features some super soft Interlock Cotton flats (though that's not all!) She also makes diapers and inserts, trifolds and boosters, covers, washcloths and more! The flats I got are almost creamy they are so soft! I would love to upcycle them into mama cloth when I'm done diapering my kiddos! (I don't know if that is a great option, but it's just soooo soft!) The interlock material is more stretchy and a little thicker than the jersey cotton, according to Elissa. I didn't have a jersey to compare, but these interlock flats were the perfect thickness. I used these at night mostly. They were again, a really AMAZING size, about 2 times the size of a Gerber birdseye and MANY times the thickness! Elissa, the mama behind the Brown Cow Cotton brand told me that they only use certified organic cotton inside diapers, in flats, and in inserts and is always USA made.

Here are my two luxurious Brown Cow Cotton Interlock Cotton flats.
They are amazingly soft. Like the kind of soft of a really great tee shirt from 9th grade that has been washed a million times but like 4x thicker and doesn't have an old, worn out cotton feel! It's just wonderful! I wish I could have this material all over my house--sheets, blankets, nightgowns, undies---it's that good!
I haven't had any stink issues with these flats. I did unfortunately get some dye from other flats onto these, so they are no longer creamy white, they are more of a seafoam green! But, I still love them! They have held up to many camp and conventional washes, and have the same cloth integrity that they had the day I got them, wrapped in brown tissue with a cute logo tag as fluffy mail! Head on over to Elissa's Etsy shop, Brown Cow Cotton, and take a look at the super soft and stylish selection she has there! She has also been kind enough to provide a lucky reader with a set of 2 flats, so you can discover the ease of using these generously-sized diapers yourself! Tell her thanks, Like Brown Cow Cotton on Facebook, and let her know you're comin' from Adventures of Mommyhood!
Meadowlark Mountain by One Lucky Mama
Julie from
One Lucky Mama
manages like 10 different websites. She is also the one behind the store that carries Meadowlark Mountain flats! They are great! I have a white terry flat that was wonderfully absorbent and it was one of the great flats for night-time during the Flats Challenge. The diaper is much softer than your ordinary terry cloth and again, this flat was a favorite because of it's giant size, something all 3 of these favorite flats have in common! These Meadowlark Mountain flats are just one layer of soft, stretchy, double-sided bamboo terry cloth. They work great with a Snappi or pins, or can be folded to fit into a diaper cover. Which is a good point to bring up--now that the challenge is over, I do just fold flats into covers a LOT of the time! Especially for camping and travel. Julie has also decided that one lucky winner deserves the same terry flat as I have, in any color in stock in her store, One Lucky Mama!! What a totally awesome mama!
I tackled my toddler and did a quick snappi job on the Meadowlark---not my best work! Ha! But, it shows how much fabric you have to work with, so you can make the front really thick with layers to cope with heavy wetters!
Who knew that a toddler could get out of a Snappi? We tried no cover, for EC purposes, and that came to a swift end when he started escaping!
So, to sum up, 3 awesome options for flat diapering. 3 awesome WAHMs that are really friendly and helpful. 3 chances to win because they are also super generous! So, lets take the time to give MJ, Elissa, & Julie a big THANK YOU and make sure to Like and Follow them, so that you can stay up-to-date on new products, sales, and any news they might have to share!! If you want to try flats, I would recommend ALL 3 of these diapers--they all have so much to offer in quality and quantity in the diaper you purchase! Go ahead, check out their shops.
THIS GIVEAWAY HAS ENDED.