In 2006,
Buncha Farmers
started as just that -- a bunch of proudly Canadian farmers with great goods to share with each other and the world! The company has changed and grown over the last few years and is now in every Province and in about 15 of the States! And now, it's in my house and can be in yours if you enter to win at the end of this review! Or, if you simply cannot wait, buy your own at their website! Here is
a link
to find all of the places where you can buy these super yummy smelling, hard-working products yourself!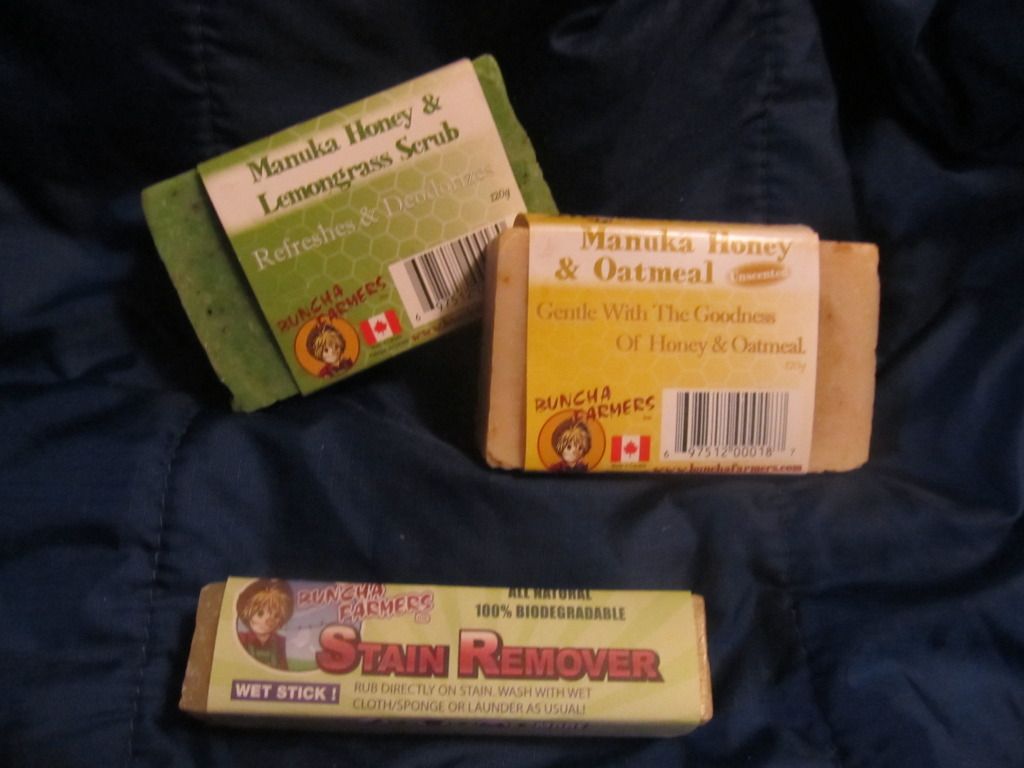 I knew I would love the soaps instantly when I received my delightfully delectable
package in the mail and could smell the goodness exuding from within! I didn't know how smitten I would become with the Stain Remover stick though!
I used to be a big fan of a stain remover simply called "Stain Stick" and then it got harder and harder to find in even large retail stores. So I tried Dreft Stain Remover on my newborn clothes--it didn't really work and it smelled terrible! I tried special detergents with ingredients that activated to combat stains and all sorts of gimmicks.
The first time I tried the Stain Remover Stick from
Buncha Farmers
, my grass stain came out! I mean it came out without much effort on my part at all! Literally the hardest work I put into that stain was GETTING IT! That's my kind of stain remover!! Like I said, love at first application! I didn't have to rub it into the fabric or use a brush, I just wiped the stick over the stain and threw it into my normal wash. Voila. Khaki capris good as new; mom still super cool for getting down and dirty during playtime!
The second time I used the Stain Remover Stick it was on the same cursed pair of Khaki capris--this time chocolate. That came out with ease. The third and worst time I stained a different pair of Khakis it was with blood from smashing a mosquito that had drained a goodly portion of my supply before I tended to it's demise and it left the evidence all over my cuff. I thought I would need some Ruby's Red Wash to get blood out (it's been the only stuff that touches blood stains in my laundry) but I decided to give the Stain Remover Stick a chance--and, it of course took it out. I had to wet and scrub a little on this one, since I really didn't want to do the laundry 2 times, but it came out nonetheless.
Buncha Farmers
Stain Remover stick is now in my laundry and my mother's too. I am going to send a stick to my little brother when he leaves for college. This is my new go-to gift for most everyone. I love it that much! Plus, I love the idea behind Buncha Farmers, supporting smaller businesses, and their mission to provide quality products to consumers.
Now the dirty details on the soaps! First, and most important to me anyway--what's in 'em? Well, they are made in Ontario and the ingredients of the Manuka Honey and Lemongrass include: Palm Oil, Coconut oil, Olive oil, lemongrass,coffee grinds, lye and water. That's it! Natural and delicious. Moisture rich and oh-so-clean feeling and smelling. I love this soap. My husband loves this soap. Now for the unscented Manuka Honey and Oatmeal: Palm Oil, Coconut Oil, Olive oil, Oatmeal, lye and water. Even more natural! They do also have Manuka Honey and Lavender as an option, which contains: Palm Oil,Coconut oil, olive oil, Manuka honey, lavender, lye and water.
These soaps don't leave that "sticky" residue behind on your skin. They just make you feel cleaner after a long day of working with your hands and putting in the elbow grease! Any product that can clean my husband and boy after they come in from barefeet on the farm and goodness knows what else, is a good soap! My kiddo and I have fair, somewhat sensitive skin and I'm not afraid to use it on him (or me). It's very gentle but makes your skin feel great. They are named for the honey that is in them (Manuka "healing" honey from New Zealand) but the soaps themselves are made in Canada. The picture is from
Buncha Farmers
and shows all 3 varieties of soaps they carry. Try them all! You will have a chance to try them if you enter the
Canada Day Extravaganza
! Several winners will get some Manuka Soap and Stain Remover sticks of their very own to love!! Give a tweet to Buncha Farmers! Say THANK YOU for the giveaway and tell them Adventures of Mommyhood sent ya their way!