The Laundry Tarts
make cleaning clothing delicious! I was lucky enough to be able to try a small sample of this fabulous Canadian-made wash in Pina Colada and the stripping agent, "Strip It"!, specifically formulated for cloth diapering! The detergents are available in 10 scrumptious flavors!
This stuff was formulated to be gentle to the environment, work with ALL types of water, and get the dreaded stinkies out of those beloved diapers! Strip It is unscented, because it's job is to remove odors.
I put about 2 TBSP in a tub of water (our downstairs laundry sink) which is about 6-7 gallons I'd say, and let the diapers soak for about an hour in cool water. I had some really yucky diapers from camping and high humidity (never really getting to dry out) so not only did we have some ammonia issues, but some dank wet dog type smells too! I swished the inserts and diapers around occasionally within that hour--immediately washing my hands because of how gross the water was becoming! But that was a GOOD thing--all of that buildup was coming OUT of my diapers!
I then drained the water and put all of the diapers into a COLD RINSE in the washing machine. After the rinse I washed my diapers in my normal wash routine with detergent and they've been fresh for a couple weeks now.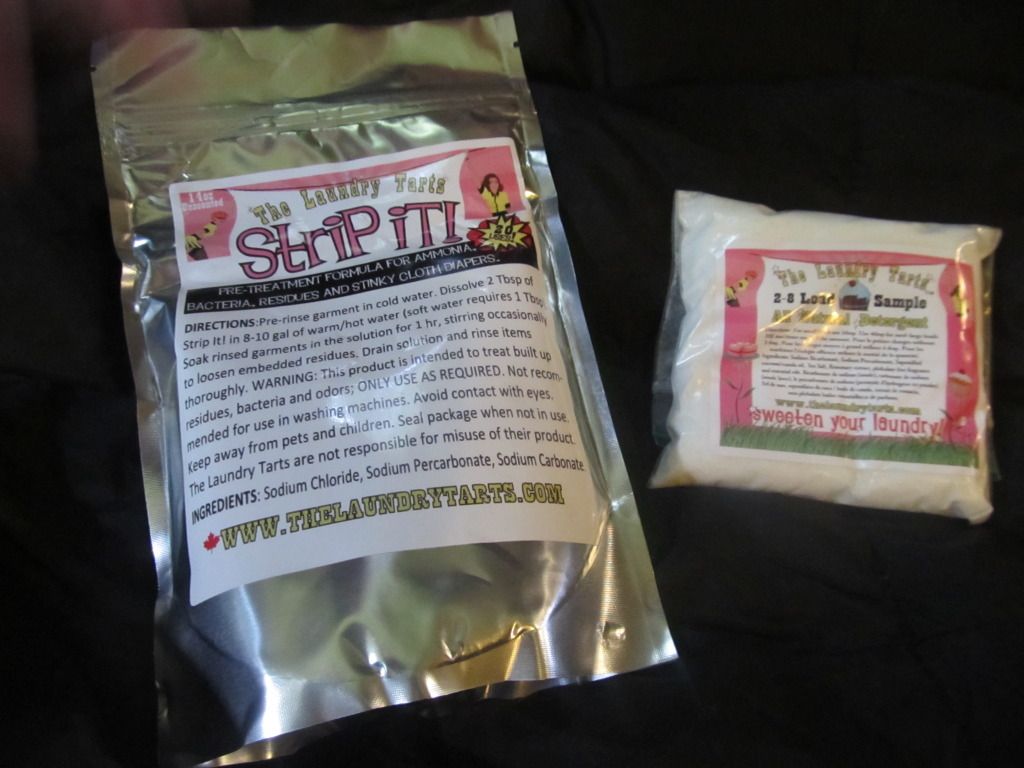 The package clearly says to only strip when needed, and I never strip more than once a month unless we were to run into some issues like rashes or yeast or super bad smells. I also try to rinse out my inserts until the water runs clear before putting them in our diaper pail, since that REALLY helps cut down on build up and the amount of stripping you need to do.
Before Strip It I had tried several stripping methods and it is definitely one of the best methods. I also like another brand of stripping solution, but they are about equal in efficiency.
The Laundry Tarts' Strip It
is something I am dying to try on my husbands garage/farm work clothes! He gets so much dirt, grime, oil, and who knows what else ground into the fibers of his clothing, I'm sure this would help with HIS nasty laundry! If not, I'm pretty sure that they are destined for the rubbish can--he REALLY is hard on clothing! But, I'm going to try it as an experiment. I will post here next week with an update as to how Strip It worked on THOSE stinkies!
All in all for cloth diapering needs, I give strip it a 4.5. I always get a little intimidated with strong warnings on packaging--this one warns against getting it in your eyes and ingestion, and also says keep away from pets and small children. I'm always worried about such warnings, since you are using the product FOR your kiddos things. But, other than that, I am really enjoying it! I wish I could try all 10 flavors of the detergent! The Pina Colada is dreamy! I use it to wash our diapers and our regular laundry. I have just a wee bit left, and will likely make my way through the "menu" and order some more!
I love that this company is so passionate about the environment. I want to have a few bags of the samples sizes to take camping--it's so gentle you can use it in the lake if you needed! Anything that can get clothes clean and NOT be doing so at the expense of the earth is worth supporting! And the logo/theme/packaging is super cute! (always a plus!)
Check out
The Laundry Tarts
on Facebook and visit
The Laundry Tarts website
to find flavors, retailers, and just to see how darn cute the page is! I LOVE the clever theme and play on words. Love. Oh, and give a friendly THANK YOU message to the gals behind the proudly Canadian brand, and your appreciation of the sponsorship for the event! One reader will win a bag of Laundry Tarts! Tell them Amanda from Adventures of Mommyhood sent you to say Happy Canada Day! Visit the web to buy a bag of your own, or enter to win one at my
Canada Day Extravaganza
!