Amy is the Amy-azing proudly Canadian WAHM who is the crafty creator and owner of
OwOOly Love
!! I saw Amy's work on Canadian Creations and knew instantly that for wool--she was where to go! (She is also a go-to gal for fleece, too!)
How It All Shakes Out
Daytime: 5
Nighttime: 5
User-friendliness: 5
Quality: 5
When All Is Said And Done: 5
Amy uses awesome wool sweaters for upcycling to make beautiful wool soakers, longies, and shorties! Talk about being green! Using cloth AND recycling unused goods to make your diaper covers!!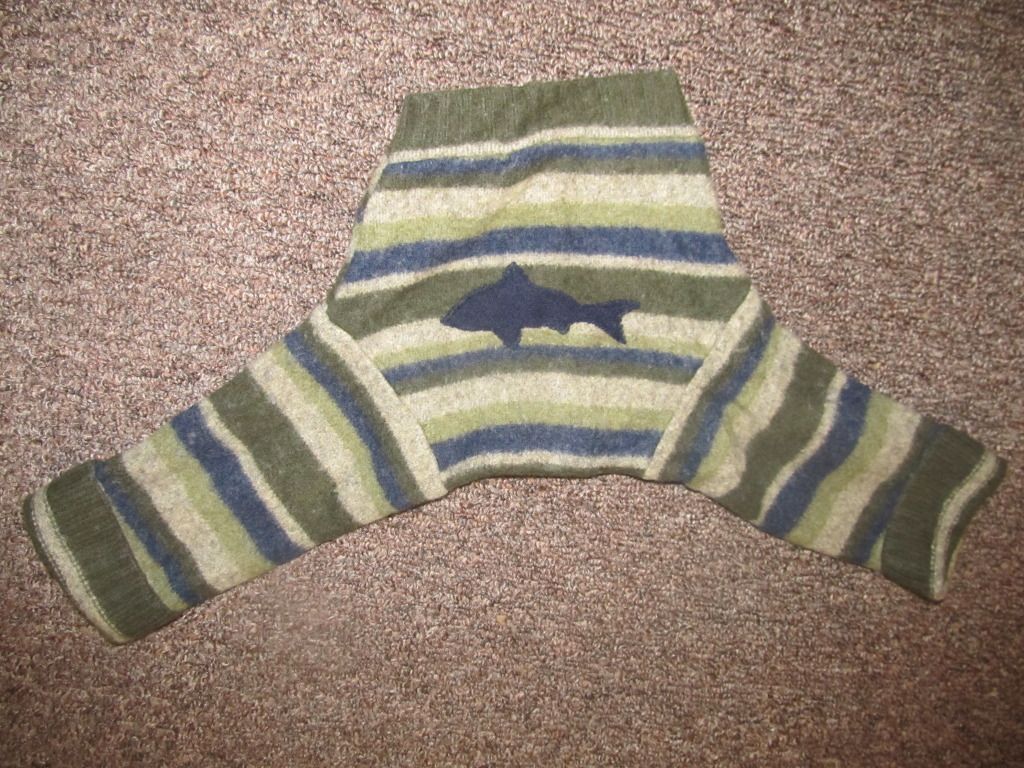 Here is the fishy on the bum and a great shot to show how wonderful the colors are!
Amy created a gorgeous fish-bum pair of longies for my boy. He wore them quite a bit for the first while when we got them to test out, but now it's been 90 and humid, so it's been about 2 weeks since we've worn longies to bed or otherwise. However, we still LOVE THEM!!
Firstly, Amy used SUPER fast shipping, even winging over the border and everything, it got here in no time flat. The next awesome detail was the longies were vacuum-packed and smelled wonderful! When I opened the package they sprang to life (expanded from being packed AND from the lively colors!) The sweater was super soft and had great colors, very manly! She specially embellished the bum with a fish and showed me the results in a picture before we got them, but they were even better in person! Amy is a master craftsman when it comes to wool! She is also way friendly and very punctual with communications regarding orders. She wants every customer to LOVE what they purchase, and is definitely all about putting in extra effort to make sure that you do!
For daytime use, especially on cool, rainy days, wool cannot be beat. We use it inside the house or for walks/bike rides and light play outside. 1) I don't want him to get too hot since wool is a great insulator. 2) I don't want to wreck our wool in the sandbox or other dirtier play settings! So, I'm a little bit more careful than you may need to be, but I adore my longies and would be crushed if we ruined them! The wool wicks away moisture and when put over a fitted diaper or a flat with a snappi, we have no problems at all with wetness and leaks.
This is the back.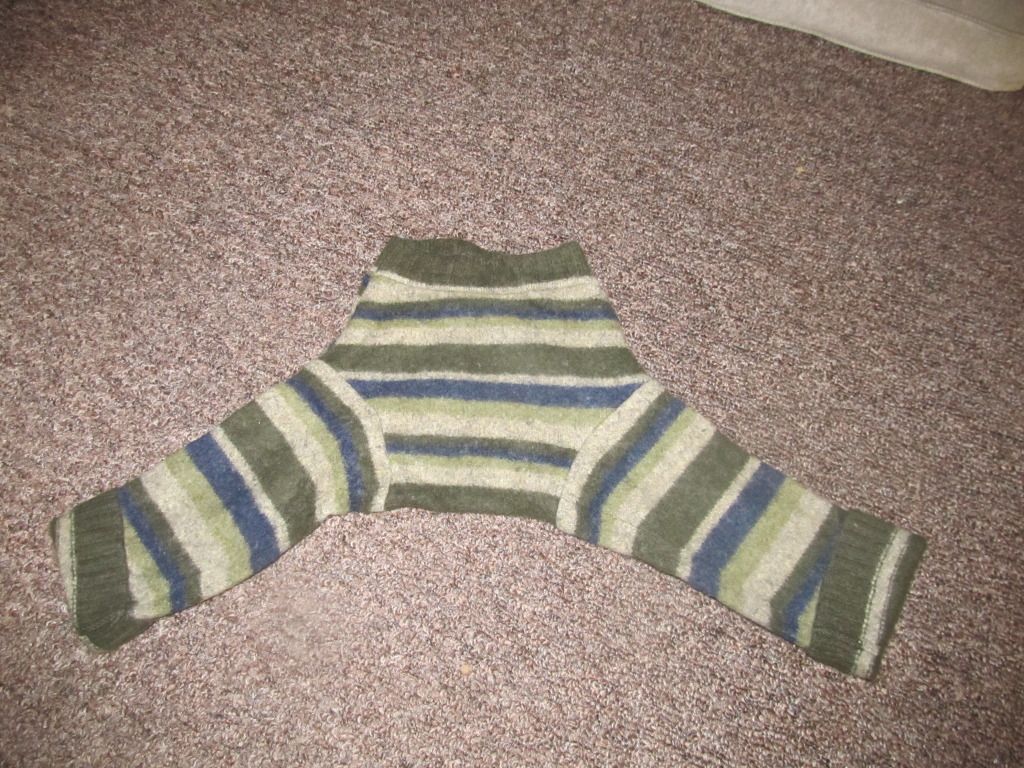 IF you can put on pants, you can put on wool longies! These are super easy to use. Now that my husband knows they aren't "just a pair of pants" he knows how to pair them with appropriate diapers for under the woolies. However, since playtime with daddy usually means getting super dirty, I don't often let dad outside with a woolly bottom boy for fear of having to upcycle the soakers into oil rags for the garage! But, they are
that
user friendly, even dads can dig wool.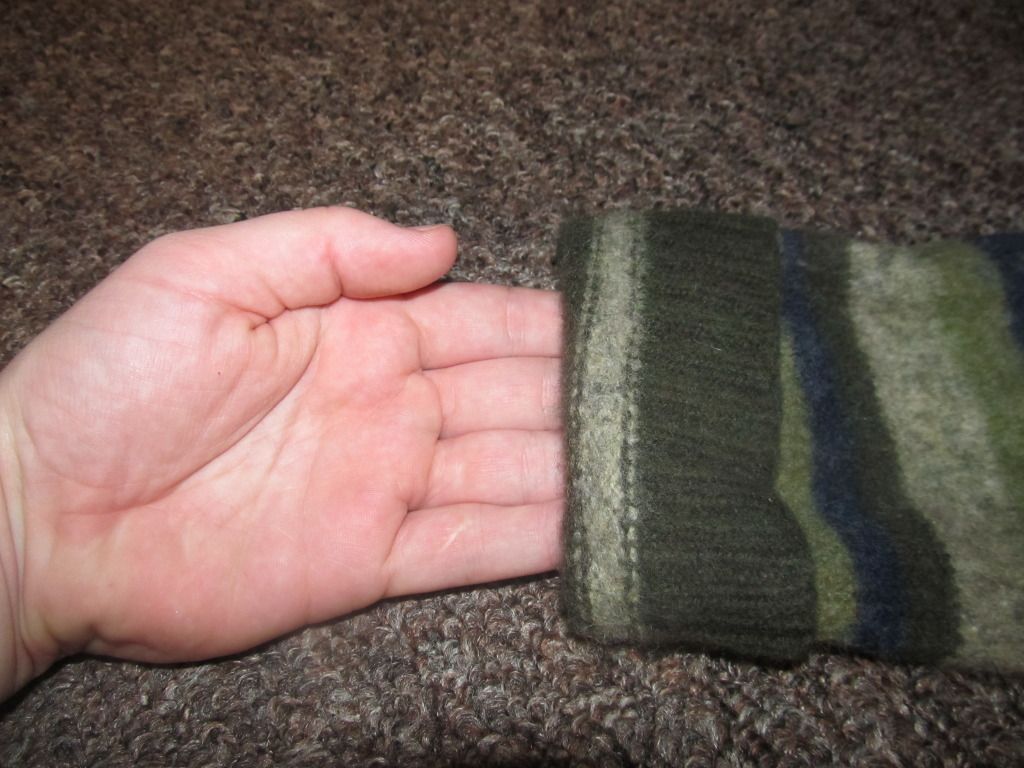 Night-time for us means wool always. We love that our boy can be snug and cuddly and stay pretty dry during his overnight slumber. OwOOly Love is no exception. The longies have been great for chilly nights and even perfect for camping, when the temps drop in the wee hours. Our guy doesn't particularly like covers, so we end up putting him in long jams quite a bit. These adorable longies are great for nighttime.
The quality of the wool is wonderful and dependent on the quality of the sweater beforehand I guess! But, Amy uses the best of the best and is always on the hunt for really nice wool! Since she's got a little one too, she knows what is suitable to put next to baby soft bums, so fear not, you're in good hands.
Overall the only improvement I think would be the bomb for Amy's soakers and longies would be to have a sweet OwOOly Love tag sewn in, so that everyone would see what kind of a great product they have! And it's great for getting the brand out there. I would also think a line of "super soakers" would be neat, with a little extra absorption sewn into the "wet zone" for additional wetness control and nighttime. Otherwise, I'm over the moon for my longies from OwOOly Love!!