Lunapads
is the foremost brand for ladies' who want a healthier, more earth-friendly, fashionable choice during their periods! They are a great, proudly Canadian company and a sponsor for my Canada Day Extravaganza!
Eco positive periods
!!
Here is a look at a regular and a long maxi with wings!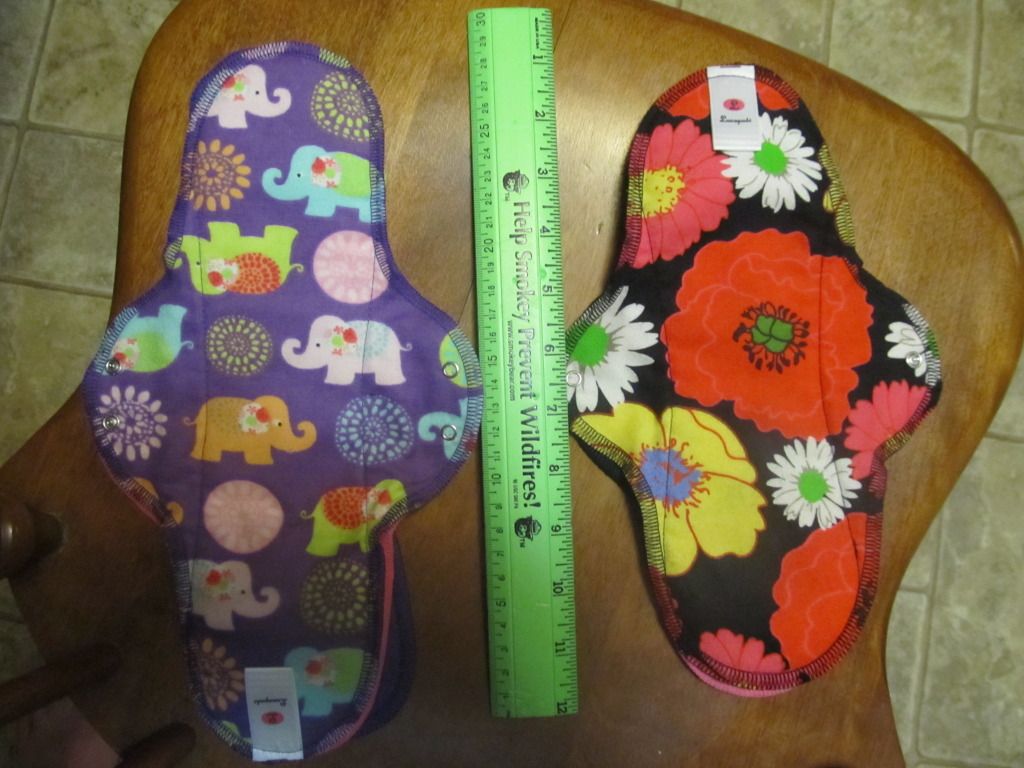 The ruler is a standard, Smokey the Bear 12" ruler.
Don't you just love the elephants and the poppies/daisies? So feminine but really cute too! Definitely cuter than pale pastel plastic and bleached cotton!
Not only plastic and cotton lurk in conventional period store-bought disposable products--many of you have heard about the "moldy tampon" incident? That's right. Mold and who knows what else can be in and on those products. And, if you search a bit about this incident, the company (I won't mention names, but it's a biggie!) responded to the worried customer by basically saying 'it's a common thing and the mold won't hurt you.' I don't like mold on my cheese and I certainly don't like mold near my lady parts. Eww. Major eww.
Lunapads
has a bit about this
on the blog
...go read up!

Here is the flip side of the pads and their matching liners!
Even before I had heard about moldy tampons, I HAD read about the potentially harmful effects of having bleached cotton inside your body for many hours of your life. So I was already thinking about a safer alternative. I didn't have to worry too much THEN, because I was pregnant. After labor, I stuck with the pads instead of tampons--that was my first step. Now, after cloth diapering my child for over a year, I've decided to use cloth for mama too! I have used these 2 pads a few times each in my last cycle and I'm loving them! I need to try and build a mama stash now that I'm finally seeing "an end in sight" with cloth diapering!
I didn't find it gross at all to use and wash pads. Maybe cloth diapering has de-sensitized me. I just devote a travel-size wetbag to my used pads and liners. I wash them every other day, using unscented detergent (the same as what I use on my diapers!) I sometimes throw a dash of Ruby's Red Wash on if there are any real bad-looking stains, but so far, they're lookin' good as new!

The distinctly beautiful "L" which signifies your great, quality product!
Lunapads also carries DivaCup, carry bags, and kits to make your period less of a pain!
If you do end up wanting to buy a kit, you'll save 10%! The website is a treasure trove of information for you -- help with deciding to use cloth and why you should switch, where to find a retailer that sells
Lunapads
, a fun blog to interact, body care items, underware and more! It's really a great resource and just a fun place to poke around and read up on some women's health issues that affect you! There is a "Sale" tab--a place we all LOVE to go! There is also information about the charitable missions that
Lunapads
is part of!
I always say that packaging with care and beauty makes it known to the customer that the business goes the extra mile to make you happy!
You should go visit their website and see what all the buzz is about! Switching really isn't that hard! The first step is collecting some mama cloth! So, don't delay any longer. Go start your stash now!
Also make sure to
ENTER TO WIN
a gift certificate, kindly sponsored by the folks at Lunapads!!
Stop by their Facebook page and say Hello, Thank you, and Happy Canada Day! You can also let them know you're comin' from Adventures of Mommyhood!