Applecheeks
is perhaps one of the best-known cloth diapering brands in Canada. Their moto is "we didn't invent cloth diapering, we just perfected it." That's sort of true, at least in many aspects! We tried out a "Little Bundle" which is an envelope and an insert to fold inside of the envelope. The print is "Wild Child" -- featuring many different safari animals and of course, apples!
The
Little Bundle
was so soft--I felt really good about putting it on my guys' bum. The shape of the envelope gives full-figured babies' extra room as it is a little wider than a traditional cloth diaper and makes double-stuffing for extra absorbency no problem. The snaps are really well-made and the PUL is good quality. I don't feel like I am stretching it out or that we are in danger of the PUL delaminating.
I like the elastic of the diaper envelope cover--it gives when it should but is also a snug enough fit that it will keep messes in. We haven't had any red marks left behind either! We also have not had any poo in this new diaper (which though it would be nice to speak to that feature for this review, I'm sort of GLAD because it's such a beautiful diaper to soil!!) The edges of the diaper are nicely turned with some stitching that I find sort of decorative.
Here is a shot (on a moving toddler, apologies) of the "ruffled" leg elastic -- keeps messes in and is comfortable!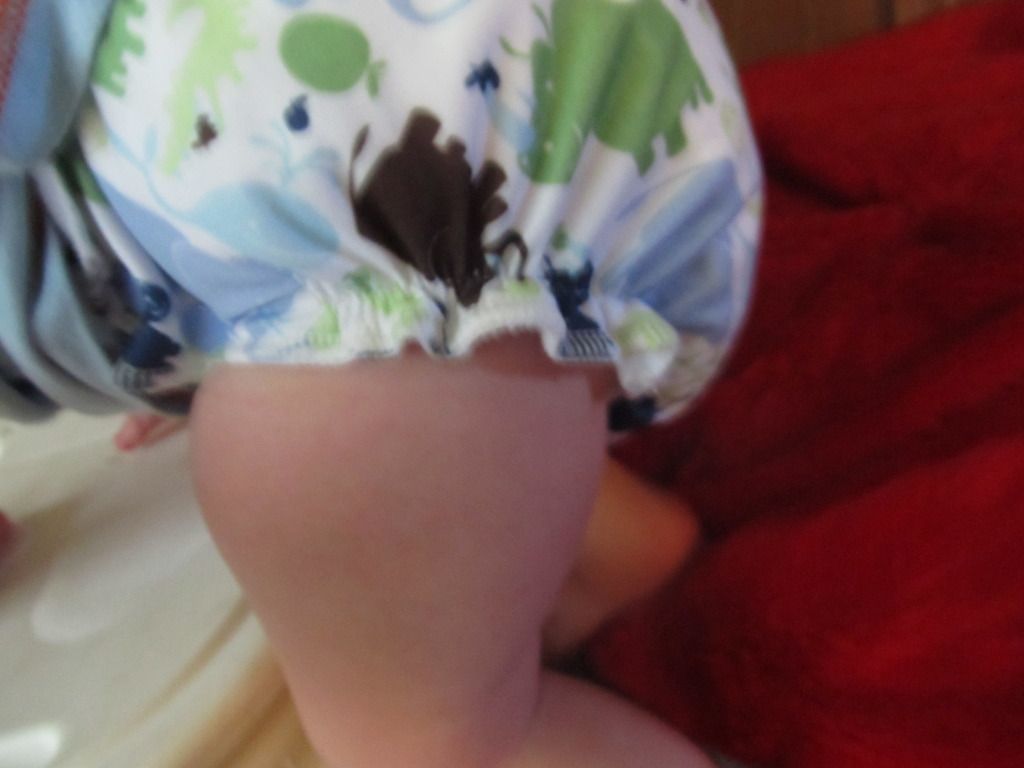 In quality and cuteness
AppleCheeks Little Bundle
gets a 5 out of 5 from me. For daytime it's also a total winner. I'd give it a 4.8 for night-time use (as is) because one insert just doesn't cut it for us right now. Ease of stuffing is awesome--another 5 because even Grandpa with his big clumsy hands can stuff this one! And, the pocket is nice and roomy for additional boosters. I'm now a huge fan of
AppleCheeks
! The materials used are quality, but hey, I'm investing in something that will spend a lot of time next to my kiddos soft skin, so it should be soft too, right? I think so!
And from the other side...you can see it's snug but not restricting.

This is a picture of the insert, which you can see I had folded 3 times to stuff the envelope.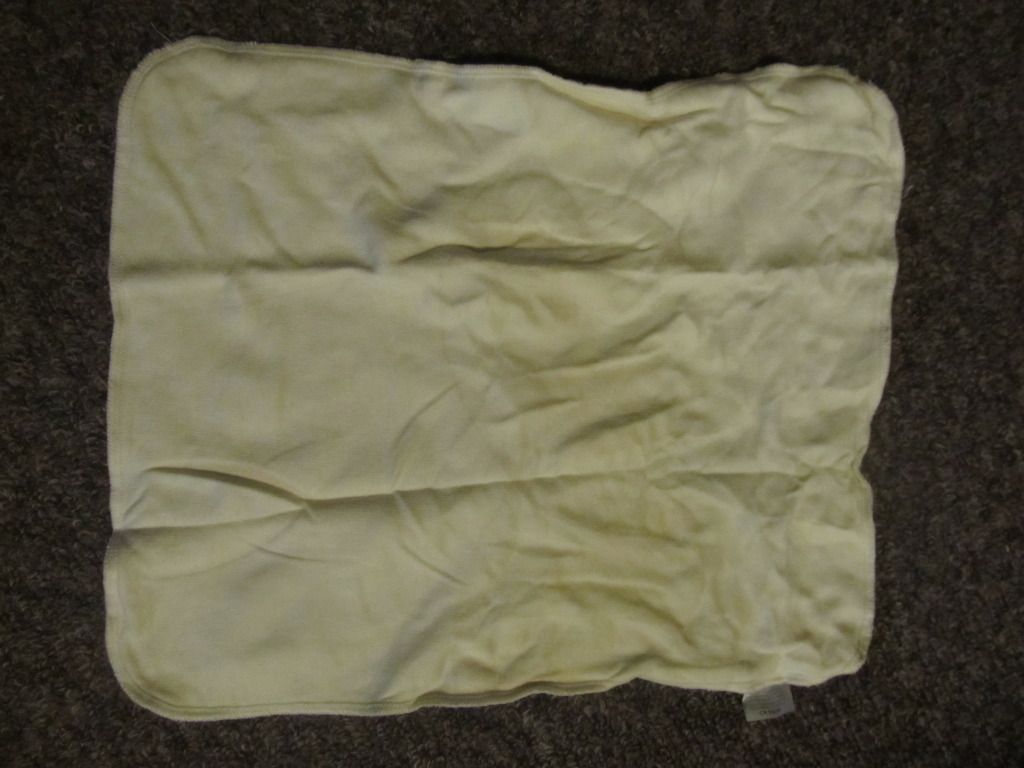 The two-rows of snaps on this diaper will ensure a great fit for many more pounds of growth and the elastic will give when it needs to accomodate your growing baby too--but still hold messes in. The wide tabs make wing droop a thing of the past, and you can add as many boosters as you need to in the easy-stuff pocket. All-in-all, AppleCheeks is a new favorite!
Think you want to try it for yourself? I'd sure recommend it! You can find out all sorts of great information about the AppleCheeks product line and about cloth diapering in general by visiting the
AppleCheeks website
.
If you think you have the luck of the Irish, or in this case maybe the luck of the Canadian on your side, you can enter the
Canada Day Extravaganza
to win one!!