I was recently given the opportunity to "shake up" my vitamin regime and try Oxylent Prenatal Multivitamin drink mix! (The wonderful folks at Oxylent also sent over some non-prenatal mixes as well as a Children's multivitamin drink mix.)
I really like the Mandarin Orange flavor, which is a "regular" daily multivitamin mix, not a Prenatal mix. The mix has no calories, it is sweet; they offer mixes flavored with Stevia only. So, if you have Gestational Diabetes like I did, you can still enjoy this mix (of course, clearing it with your doc first!)
Here is a glimpse of the Oxylent information and sample pack that I received.
Want to know something amazing and pretty impressive? Oxylent is the official prenatal vitamin of the American Pregnancy Association!! All of us that have been (or are) pregnant know what a worry it is sometimes, thinking about all of the decisions you have to make about what goes INTO your body for you and your baby. Worry not! The experts back this one. In fact, you can check out a great piece written by Dr. Audra Foster featured on the APA website
by clicking here
.
Here is my oxylent sampler--2 flavors of Prenatal mix, 3 flavors of "original," a children's mix, and a chapstick!! I REALLY love the chapstick! It goes on so smooth!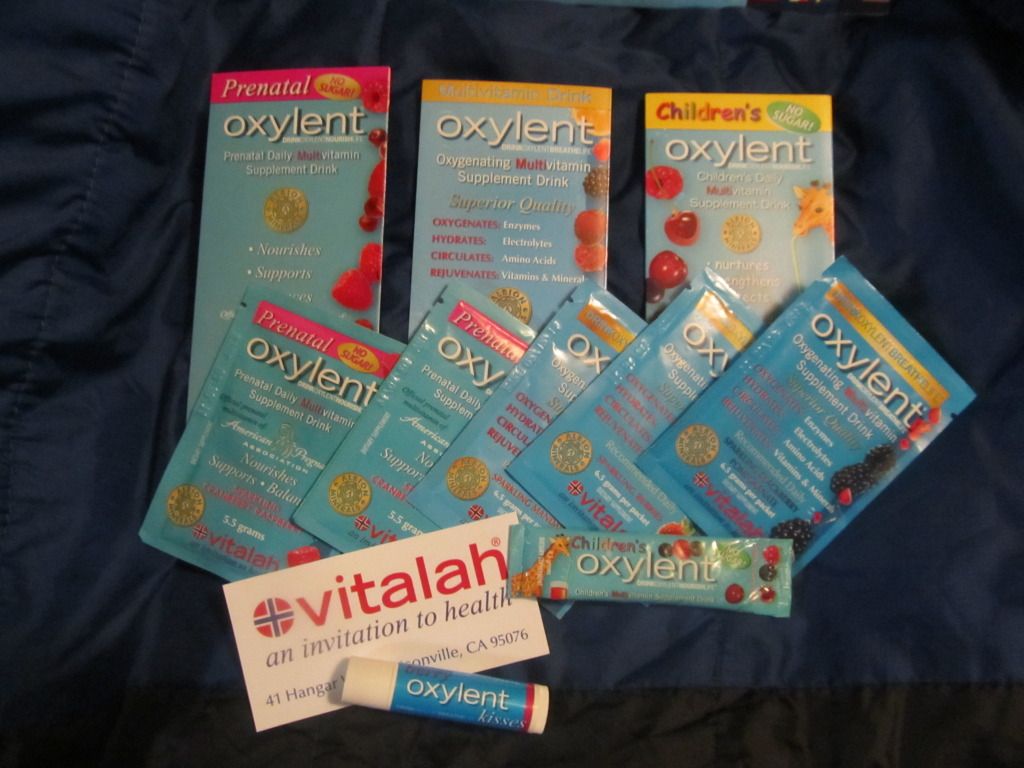 I was always a fan of Emergen-C packets while working on the fireline. They gave me a quick pick-me-up that Gatorade and other electrolyte drinks couldn't touch. They had the added perk of giving me vitamins and nutritional benefits. I see Oxylent as a very similar type of drink. I would definitely recommend it as a refreshing drink to add to your daily nutrition plan. I like the Mandarin Orange flavor the best. My husband loves the mix too! He drank the Blackberry Pomegranate mix and said it was good. I received a box of Prenatal Oxylent in the Sparkling Berries flavor and it's really pretty good. I'm still nursing and was taking a prenatal capsule prior to receiving the drink mix, so I'm excited to have Oxylent in my routine, to provide great nutritional benefits for me and my son.
Prenatal Oxylent makes the need to swallow pills/tablets disappear. The packets just mix into water to make a really convenient way to get your nutrition! It's also comforting to know that there is no sugar, dairy, gluten or preservatives in the mix!
I don't care for "bubbles" in my drinks. However, it isn't an overbearing bunch of bubbles, and it actually grew on me after a week or two of drinking it. A lot of people LOVE this element, so I could see it actually being quite positive to most other people. It's not as bubbly as club soda or sparkling water, it is more subtle than that. Plus, scientific studies have shown that the effervesence actually helps the body to absorb the nutrients better than when they are delivered in the pill form.
Want to learn more? Like what you've read? You can
find Oxylent on Facebook
and also on
Twitter
!
I received this complimentary product for the purposes of my review. All opinions are my own. These statements have not been evaluated by the FDA and are not intended to diagnose, cure or treat diseases.