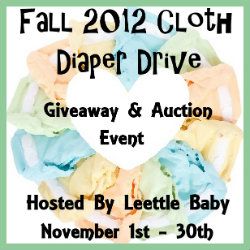 Leetle Baby is hosting a great charity cloth diapering event! Some sponsors are really raising the bar, donating diapers for each that they sell during the event! This could really help families in the Appalachia area in need! The event goes from November 1st through the 30th, but sign ups close tomorrow, so HURRY and get in on the fun!
List of confirmed sponsors so far
Funky Fluff
1 One-Size Diaper (valued at $18.40)
Glow Bug
1 One-Size Diaper (valued at $12.50)
Green Bees
2 One-size Diapers (valued at $16.00)
GoGo Natural
The Little Bee Company
One-size Diaper in Choice of Color (valued at $19.95)
** The Little Bee Co. has graciously offered to donate one diaper for every diaper purchased during this event! **
Smart Snugs
SoftBums
Choice of Echo/Omni Diaper One-size Shell & One-Size Pod (valued at $29.90)
Thirsties
3 Duo Wraps (valued at $38.25)
10 Duo Hemp Pre-folds (valued at $80.00)
...that is over $176.75 so far!
Sponsors For Auction :
Funky Fluff
,
Glow Bug
,
Little Bee Creations
, and more!
Bloggers needed!!
1 FREE link for simply spreading the word about this event!
Cost for additional links :
$5.00 for 2 links (or 3 links if you posted the event announcement)
$1.00 for each additional
$10.00 for follow page
100% of the fees collected will be used to send diapers to the
Tomahawk Sustainment Mission.
If you sponsor a prize for the giveaway, auction, or simply donate to the cloth diaper purchasing fund, you will receive 5 links on the giveaway form at no extra charge.
* BLOGGER PRIZE! Top 2 referring bloggers will receive a FREE follow page! *
Participating in this event is easy!
Here is what you need to do :
Go
HERE
to sign up!!!